The 2021 Atlantic Hurricane Season officially kicked off June 1 and forecasters are predicting above-average activity. As we saw in 2020, hurricane season didn't show mercy despite there being a global pandemic. Instead, it was a season for the record books. Thirty named storms, 14 hurricanes and 7 major hurricanes – it was relentless, and the storms just kept coming. The Gulf Coast, and Louisiana in particular, suffered the brunt of the activity. In total, the 2020 hurricane season caused between $60-65 billion in economic damage according to a report from AccuWeather.
As you begin preparing for this hurricane season, there are two new challenges you should consider – soaring lumber prices and the growing skilled labor shortage. If we learned anything from last year, hurricane season won't hold back. And, these two factors could have major impacts on the cost and speed of hurricane recovery.
The Cost of Lumber
Record lumber prices have been making headlines and fueling jokes across social media since April. "Lumber is literally one of the hottest commodities that we've seen in the recent past," Kyle Little, chief operating officer at Sherwood Lumber, a privately held New York-based wholesale distributor told CNBC.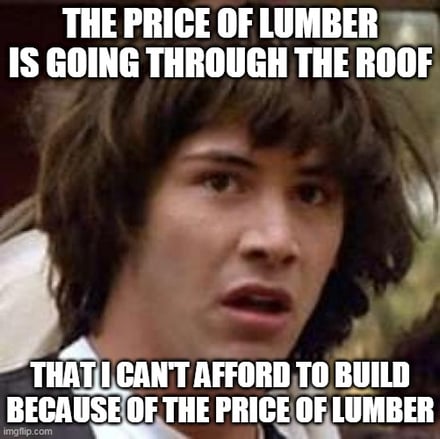 Source: imgflip.com
On May 10th, lumber hit a record high of $1,711 per 1,000 board feet. For context, lumber typically sells between $200 to $400 for the same quantity. In just one year, the price of lumber has increased more than 325%.
"Framing has gotten really expensive," said Samuel Jack, VP Project Development for Commercial Restoration Company (CRC). "We're not seeing the lumber shortage that we saw a month or two ago, but prices are still high. I would say prices have tripled and are definitely driving up costs in the restoration market."

Cost estimating systems, like Xactimate, that both insurance and restoration companies use for estimating building damage and repair costs are catching up but continue to lag behind current market prices.
"As of the May price list, Xactimate has caught up quite a bit, but it's not real time," Jack said. "For example, on one project, the price increased by $1,500 in just two weeks because of lumber prices but the software doesn't reflect those increases that quickly."
What's Causing Lumber Prices to Skyrocket?
The price of lumber started climbing back around March 2020. As the U.S. began to lockdown in response to the COVID-19 pandemic, people found themselves stuck inside homes and with extra free time. So, they turned to home improvement projects which increased demand just as sawmills were closing down in anticipation of decreased demand.
More importantly, the lack of single-family home inventory stayed almost non-existent and there was a higher demand for new builds. After misjudging the market and decreasing production, the sawmills haven't been able to keep up with the demand which isn't just driving up prices, it's also making it harder for builders to get the materials they need to start or complete projects.
"Normally it might take 2-3 weeks to get trusses, but now it can be anywhere from 6 weeks to 3 months," said Jack.
Not the First Time for Rising Lumber Prices
"What is happening in lumber has happened before…the cycle lasted for as short as 9 months and as long as 41 months. Our belief is that this cycle we are currently, which is about in the 11th month, is here for the foreseeable future," Sherwood Lumber's Kyle Little told CNBC.
This doesn't mean that we won't see prices come down, but what it does mean is we can expect the lows to not be as low, according to Little. High lumber prices will continue to impact everything from the cost of new homes to renovation projects. It also means you should anticipate the costs of preparing for (board up materials) and recovering from hurricane damage to be more expensive than in previous years based on lumber prices alone.
Although Keta Kosman, publisher of Vancouver-based Madison's Lumber Reporter, predicts lumber could correct to $1,000 by Labor Day, she acknowledges natural disasters will impact prices. "There might be somewhat of a correction down season and then flattening unless we have fires, unless there's bad storms, that'll keep the price up," she said.
The Skilled Labor Shortage
High demand and low supply isn't just impacting lumber. Similar effects are being felt on the labor side as well. The construction labor shortage has persisted for more than a decade and the number of skilled trade jobs in the U.S. continues to outpace the supply of qualified workers to fill them.
What's Causing the Skilled Labor Shortage?
There are several factors at play. First, after the 2008 recession, many skilled workers left the workforce and didn't return. Second, many workers are now reaching the age of retirement and with less emphasis on skilled trades and apprenticeship programs, there just aren't enough young skilled workers to take their place. Third, the COVID-19 pandemic compounded these challenges and further stressed an already understaffed workforce.
Based on the 2020 Construction Outlook Survey results published by the Associated General Contractors of America (AGC), the most notable effects of the skilled labor shortage in construction are:
Increased project costs
Increased project delays

"Projects are definitely more expensive and taking a lot longer than before Covid," CRC's Samuel Jack said. "A large project that might normally take 5 or 6 months is now taking more like 8 or 9 months."
Getting good workers on a project and getting them to show up every day is increasingly difficult which is adding to project timelines and costs according to Jack.
"The demand for labor is high and what we're seeing a lot of from subcontractors is part weeks with part crews on projects," said Jack. "Pricing for laborers right now is at a premium, but we've also seen the prices for Mechanical, Electrical and Plumbing Engineers go up about 25% in the last couple of months."
When it comes to construction projects, the order of operations matter – first framing, then plumbing and mechanical, followed by electrical. If any one of these gets slowed down, it's like a domino effect and can cause significant project delays. With demand for new build homes being so high, the demand for mechanical, electrical and plumbing services is also high and is taking longer to schedule services.
COVID-19 is Still a Wild Card
Despite what we've learned about COVID-19 over the last year, it's hard to say what impact the virus will have this fall when hurricane season is at peak activity.
Even though the number of fully vaccinated people across the U.S. continues to rise and social distancing measures begin to relax, it's still a good idea to plan your hurricane response with COVID-19 precautions in mind.
It's likely we will still see temperatures checks, sanitizing stations, increased PPE and physical distancing especially in relation to evacuation centers with large numbers of people all in one place.

"On project sites, we'll continue to have hand washing stations and provide appropriate PPE to all workers," said Chuck Borden, President of Commercial Restoration Company. "We follow CDC guidelines and any local or state restrictions that exceed CDC guidelines, we follow those."
3 Actions to Take Before Hurricane Activity Picks Up
While it remains to be seen whether lumber prices and the labor shortage will continue into hurricane season and impact your recovery, one thing is for certain. The worst time to figure out how you'll respond to a disaster is when you're right in the middle of one. Take the time now and complete these three action items before hurricane season really gets going.
Review insurance coverage & claim procedures – The best time to review your insurance coverage is well in advance of hurricane season. When it comes to commercial property insurance, many policyholders are surprised when they discover things like flood coverage aren't already included in their plans. Make the time to review your policy, understand what is and is not covered and understand the process for submitting a claim.
Update hurricane response plan & communicate with employees – When updating your disaster plan, make sure all critical contact information is up-to-date and adjust response plans based on any changes to key personnel or vendors, current conditions like accounting for extra COVID-19 precautions or lessons learned from previous disasters. When considering lessons learned, ask yourself what went well and what should be improved? And don't forget to use learnings from outside your company to help improve your plan. For example, many lessons from the Texas Freeze could be applied to a hurricane response plan. Additionally, make sure to communicate your plan and any changes to all employees. If you don't already have a plan, the Hurricane Toolkit from ready.gov is a great place to get started.
Discuss response strategy with your restoration partner – Knowing who you'll call to help with your post-hurricane recovery is a step in the right direction. However, companies routinely make the mistake of only calling their restoration partner after a hurricane causes damage. To help avoid the post-storm scramble, you should be having conversations with your restoration partner now to discuss things like current pricing, response capabilities, access letters, equipment placement, what your specific priorities are, who your onsite contacts will be, etc. Having these conversations now will speed up recovery later.
For more disaster planning and recovery tips, follow us on LinkedIn.